Saturday, December 31, 2016 - 9:00 pm
21st Annual New Year's Eve Celebration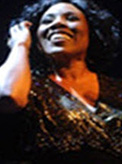 Severance Hall
Tickets: $31 to $112 216-765-7677
The Cleveland POPS Orchestra with Carl Topilow will welcome 2017 with their 21st annual celebration at Severance Hall. The two-hour concert starts at 9:00 p.m. and consists of an exciting and wildly popular evening of Broadway favorites performed by singing sensation and American Idol winner Melinda Doolittle. Ms. Doolittle is being hailed as one of the most exciting and talented young vocal artists in America.
The two-hour performance consists of a sparkling selection of Melinda's favorite Broadway songs, contemporary pops and jazz hits, along with a tribute to some of the Great American Soul singers like Aretha Franklin, Gladys Knight, Tina Turner, Gloria Gaynor, and Marvin Gaye, to name a few.
The concert is followed by dancing to two different bands in two locations in Severance Hall. Carl Topilow and an ensemble of Cleveland POPS Orchestra members will provide the dance music in the Grand Foyer while rock & roll music will be provided by the No-Name Band (Lawyers Playing Music for Dancing from the 60's and 70's, and beyond!) in the Smith Lobby. Further amenities include cash bars, a midnight balloon drop, and desserts and coffee. The festivities continue until 1:00 A.M.
New Year's Eve Hotel Package
Cleveland POPS Orchestra New Year's Eve concert ticket holders may arrange for overnight accommodations at the nearby InterContinental Hotel. Enjoy a luxurious suite on December 31st at the economical Cleveland POPS discount price of just $139 plus tax. The package also includes free breakfast for two at the North Coast Café, free valet parking and free transportation to and from Severance Hall. Concert tickets must be purchased separately to qualify for the hotel discount. See our Cleveland POPS Orchestra New Year's Eve Package for details and to make your reservation.
Melinda Dolittle (vocalist)
Melinda Doolittle is a soul-stirring songstress. She is a flawless vocalist with irresistible artistry and effortless style compelling her audiences to keep listening.
Tone deaf as a child, Melinda's choir teacher would plead with her not to sing, but just silently move her mouth. Undaunted, her love of singing drove her to enter a talent show in the seventh grade where she stunned the audience with her miraculously spot on vocals and beautiful voice. She never looked back!
Melinda graduated with a Bachelor's in Music from Belmont University in Nashville, TN. She became a highly sought after background vocalist singing for musical icons including Michael McDonald, Aretha Franklin, BeBe and CeCe Winans, Aaron Neville and Jonny Lang.
Doolittle became a household name during season six of American Idol in 2007. She came in third in the voting, first with Simon Cowell calling her his "personal favorite" and quickly became the sweetheart of American Idol winning over the hearts of all with her stunning powerhouse vocals and her personal charm.
In 2009, Doolittle released her debut album, Coming Back to You, garnering rave reviews from critics, including The New York Times, which hailed her as one of the most "phenomenally gifted" singers in years. In 2013, she released her sophomore album. You're The Reason, giving fans yet another opportunity to hear her impeccable vocals and revealing a bit more of her personality. People Magazine stated, "Her voice is a slinky purr then a mighty growl that will keep you coming back for more." In the middle of her album releases, she penned her book Beyond Me: Finding Your Way to Life's Next Level. Melinda is currently the well-loved co-host of TV Line's Reality Check.
Doolittle continues to thrill audiences everywhere from the Rock and Rock Hall of Fame to The White House, from the Copa Room to Carnegie Hall. In addition, she has been a featured guest with the Boston Pops, Charlotte Symphony and United States Air Force Orchestra to name a few, including a featured performer at the 2015 Boston Pops Fourth of July Spectacular.
Melinda Doolittle takes you on a magical musical journey aboard her very own soul train with an irresistible tribute to the most loved songs and performers of the Great American Soul Book. Hailed as one of the most talented young vocalists in America by critics nationwide, Ms. Doolittle pays tribute to iconic artists such as Gladys Knight, Aretha Franklin, Otis Redding, Tina Turner, Gloria Gaynor, Marvin Gaye, and many more.
In thankfulness for all she has been given, Doolittle gives back to these amazing organizations: Vanderbilt Children's Hospital, Ronald McDonald House, The League, and Malaria No More (Presidential Delegate to Africa).
Special Event