Friday, August 17, 2018 - 6:00 pm
A Night On The Town Annual Gala Fundraiser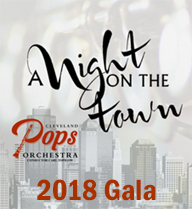 The Intercontinental Hotel Cleveland – Grand Ballroom
Tickets: $250 216-765-7677

Friday, August 17, 2018 6:00 PM
The Intercontinental Hotel Cleveland – Grand Ballroom
Honoring Brendan Ring Of Nightown
Winner of the coveted Cleveland Arts Prize, cultural entrepreneur, and restauranteur extraordinaire, he made Cleveland into a national destination for jazz aficionados.
Dinner Selections Include: Salmon, Beef, & Vegetarian Meals.
Join us for A Night On The Town A Tribute to Jazz & Pops featuring Cocktails, Dinner, Silent Auction, Jazz Weekend Get-Away Raffle, & concert by the Cleveland Pops.
An elegant evening to benefit The Cleveland Pops Orchestra
Sponsorship Opportunities
Individual Supporter: $250
♪ 1 event ticket for cocktails, dinner & concert
♪ Season-long listing in upcoming Concert Program Book
Supporting V.I.P. : $1,000
♪ 2 VIP tickets for cocktails, dinner & concert
♪ Listing in event program book
♪ Season-long listing in upcoming Concert Program Book
♪ Complimentary valet parking
Dress Circle: $3,000
♪ Cocktails, dinner & concert for 8 people
♪ ½ page (b/w) ad in program book, listing in event advertising materials & webpage
♪ Season-long listing in 2018-19 Concert Program Book
♪ Private VIP Reception with Brendan Ring
♪ Reserved seating for dinner & concert
♪ 4 Seats to a future Pops concert
♪ Complimentary valet parking
Conductor's Circle: $5,000
♪ Cocktails, dinner & concert for 8 people
♪ Full page (b/w) ad in program book, prominent listing on event advertising materials & webpage
♪ Season-long listing in 2018-19 Concert Program Book
♪ Private VIP Reception with Brendan Ring
♪ Preferred seating for dinner & concert
♪ 6 VIP Seats to a future Pops concert
♪ Complimentary valet parking
Podium Patron: $10,000
♪ Cocktails, dinner & concert for 8 people
♪ Prominent inside cover listing in program book, event advertising materials & webpage
♪ Season-long listing in 2018-19 Concert Program Book
♪ Private VIP Reception with Brendan Ring
♪ VIP seating for dinner & concert
♪ 8 VIP Seats to a future Pops concert
♪ Complimentary valet parking
For additional information, please contact: Sarah Mehler, Director of Development
E: smehler@clevelandpops.com P: 216-765-7677
Special Event