Saturday, January 21, 2017 - 8:00 pm
Gotta Sing! Gotta Dance!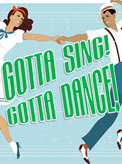 Severance Hall
Tickets: $21 to $95
Featuring the talents of songstress Joan Ellison (the songs of Judy Garland), along with members of the Cleveland POPS Chorus and dancers from the acclaimed NEOS Dance Theatre. You'll be singing and dancing to this evening of American standards that defined the golden era of movie musicals.
Subscription Concert