The Cleveland Pops Orchestra plays its 6 season concert at our main venue, Severance Hall in Cleveland, OH. The annual holiday performance is at Playhouse Square in Connor Palace, acting as our secondary location. Along with these two venues the orchestra also performs throughout Ohio during the summer months, at various locations.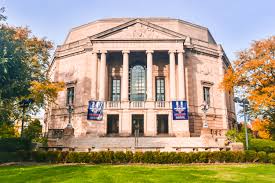 Opened February 5th, 1931, Severance Hall seats up to 2,000 people and has become one of the most beautiful concert halls in the world. Designed by the Cleveland architectural firm Walker & Weeks, the building is named for John L. Severance and his wife, Elisabeth, who initially pledged $1 million for its construction.
Fun Fact: If you have the time, try to find the screw in the Severance Hall grand foyer. It's a tricky find, but we can assure you, it's there!
Learn more about Severance Hall and its history.
Box Office
All single ticket sales go through the Severance Hall box office.
Phone: 216-231-1111
Email: webpatrons@clevelandorchestra.com
Summer Box Office Hours
Mon-Fri: 9am to 6pm
Sat/Sun: closed (but open 3 hours prior to concerts at Severance Hall)
September Through May Box Office Hours
Mon-Fri: 9am to 6pm
Sat/Sun and holidays: closed (but open 3 hours prior to concerts at Severance Hall)
Playhouse Square (Holiday Concerts)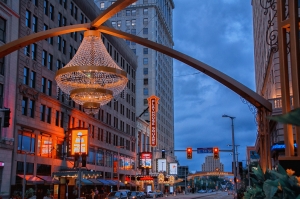 The Orchestra's home for our annual holiday concert is the elegant, Connor Palace at Playhouse Square, one of four principal theaters at Playhouse. Opened November 6, 1922 this theater showcases it's one of a kind lobby with the largest woven-in-one-piece carpet plus its fabulous electrical sign atop the building.
Box Office
The Playhouse Square Ticket Office is located in the KeyBank State Theatre lobby.
Operating Hours
Mon – Sun: 11 a.m. – 6 p.m. *
*Ticket Office May close earlier or later, or be closed altogether, depending on performance schedule.
*During events/shows, the ticket office is open through the first intermission.
*To check operating hours before visiting, call 216-771-8403
Address
KeyBank State Theatre
1519 Euclid Ave.
Cleveland, OH 44115
Note
The Ticket Office accepts cash, American Express, Discover, Visa and MasterCard. (We regret that personal checks are not accepted.)
PURCHASE TICKETS BY PHONE
Phone: 800-801-7407
Local: 216-241-6000
Operating Hours
Mon – Fri:  9 a.m. – 9 p.m.
Sat:  9 a.m. – 9 p.m.
Sun:  9 a.m. – 8 p.m.