Carl Topilow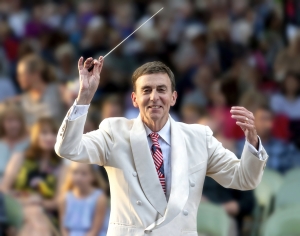 This year Carl Topilow will be celebrating his 24th season as Music Director and Founding Conductor of Cleveland Pops Orchestra. His eclectic programs, including the music of Broadway, Hollywood, jazz, rock, and light classics, have been critically acclaimed by audiences and critics alike. Topilow enjoys a dual career as both conductor and clarinetist, usually finding an occasion to perform a selection with the Pops on one of his brightly colored clarinets. His unique approach to pops programming includes extensive audience involvement and true showmanship.
Topilow has performed as guest conductor with 122 different orchestras in 37 states and 12 foreign countries. He is also Conductor of the National Repertory Orchestra, a summer festival in Breckenridge, Colorado and the Firelands Symphony Orchestra, based in Sandusky, OH. He has served as principal pops conductor of the Toledo Symphony Orchestra, Southwest Florida Symphony Orchestra and Mansfield Symphony Orchestra. Additionally, in August 2020 Carl will be one of two teachers at an exciting conductor's workshop in Lviv, Ukraine!
Recently named Faculty Emeritus after 37 years as Conductor and Director of the Orchestral Program at the Cleveland Institute of Music, Topilow continues as principal instructor of the masters program in orchestral conducting.
A graduate of the Manhattan School of music with a bachelors in clarinet performance and a masters in music education, Topilow held conducting fellowships with the National Orchestral Association with Leon Barzin and the Aspen Music Festival with Jorge Mester. Carl began his professional career as Exxon Arts Endowment Conductor of the Denver Symphony Orchestra. He makes his home in Pepper Pike, OH where he lives with his wife Shirley Morgenstern, President and CEO of the Cleveland Pops Orchestra. Their daughter Emily is a graduate of Bowling Green State University with a degree in psychology with a minor in marketing. Their daughter Jenny is a graduate of the Cleveland Institute of Music and Carnegie Mellon University, and a violinist with the Charlotte Symphony Orchestra.
To learn more about Carl Topilow, visit www.carltopilow.com.