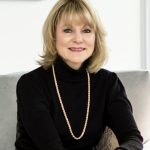 President & CEO, Shirley Morgenstern (shirleymorgenstern@clevelandpops.com), President and CEO of the Cleveland Pops Orchestra is also co-founder of the ensemble along with her husband Carl Topilow. Morgenstern combines her key role with that of head of the well-known Morgenstern Dance Studio and her equally hectic career of gifted entertainer and choreographer.
She serves as regional director of the International Tap Association. Protégé of the late Dave Morgenstern and student of dance legends like Henry LeTang, Ms. Morgenstern is in demand from coast to coast as an entertainer and tap workshop leader.
An lifetime board member of the Beachwood, Ohio Chamber of Commerce, she co-chaired the highly successful Beachwood Business Show and has headed promotional campaigns for Swingos Restaurant, Tower City, the United States Amateur Ballroom Association, and the International Dance and Exercise Association.
She has appeared as featured dancer in many of the Cleveland Pops Orchestra productions.
Back to: Staff