2017 Jean L. Petitt Memorial Music Scholarship Co-Winner Célina Bethoux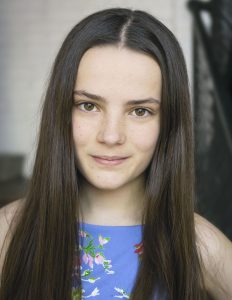 Célina Bethoux, 14, fell in love with the violin at the age of 2. She does not remember a day passing by without music. She is fortunate to study with Cleveland Orchestra violinist Isabel Trautwein and Assistant Concertmaster Jessica Lee. She is enrolled in the Cleveland Institute of Music Preparatory program, where she takes theory lessons with Dr. Jennifer Conner, and participates in the Preparatory Chamber Music Program, coached by Annie Fullard and Mari Sato from the Cavani Quartet, and Cleveland Orchestra musician Carolyn Warner. Célina has participated in masterclasses with Peter Salaff, David Bowlen, Stephen Shipps, Mari Sato, and members of the Verona Quartet.
Even though Célina is envisioning a career as a soloist and chamber musician, she feels that playing in orchestras has enriched her musical perceptions. She played in CIM youth orchestras, and she is in her second year as a member of the Cleveland Orchestra Youth Orchestra, having served as assistant concertmaster and concertmaster.
Célina has been a winner of several local competitions in the past two years, and as a result she has enjoyed performing as a soloist with several community orchestras (the Suburban Symphony Orchestra, Cleveland Philharmonic Orchestra, and Heights Chamber Orchestra), which made her realize how privileged the greater Cleveland community is to have such a rich musical environment. As one of two Grand Prize winners of the Cleveland POPS 2017 Jean L. Petitt Memorial Music Scholarship Competition, she is honored to be performing with the Cleveland POPS Orchestra. She is also one of the two first place winners of the 2018 COYO concerto competition, and she will perform the Barber Violin Concerto with COYO this Fall. A prizewinner in the 2016 Duquesne Young Artist National solo competition, she also won first place in the 2018 Duquesne Young Artists National Competition Concerto Competition, which will give her the exciting opportunity to play a concerto with the Pittsburgh Symphony Orchestra in the Fall.
Célina has attended Summer music programs every year since 2013, including the Ithaca College Summer Suzuki Institute (in the advanced violin program), and the Jacobs School of Music Summer String Academy at Indiana University (on a merit award) where she was taught by Mimi Zweig. This Summer, she will be attending the Heifetz International Music Program in Staunton VA.
It is Célina's belief that musicians should be connected to their community and to the world at large. She is determined to reach out to others through music. She played with her quartet the Beethoven quartet n°4 op.18 at a UNICEF benefit concert in 2016. Over the past 3 years, she has also given several recitals for the residents of Judson Manor and Judson Park.
While training as a performer is her priority, Célina is also fully committed to other aspects of music, such as composition. She participated in the 2016 "Creativity: Learning through Experience" program, which pairs composers from the Cleveland Composers Guild with talented young artists.
As a homeschooled 8th grader, Célina's favorite subjects are math, science, and philosophy. In her free time, she enjoys reading, origami, hiking with her family, and playing with her dog Lilly.
Célina is inspired by this quote from Itzhak Perlman: "The violin is a replica of the soul."