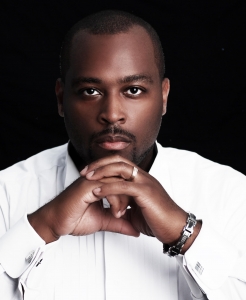 American baritone Michael Preacely is a rising star on the operatic stage and is also known for a versatile singing ability and style that allow him to cross between genres from classical repertoire to pop, contemporary, and Broadway. He has received critical acclaim for many of his performances, including Phantom in Phantom of the Opera, Scarpia in Tosca, Ford in Falstaff, Marcello in La Boheme and Rigoletto in Rigoletto to name a few. Mr. Preacely has performed with many major and regional opera houses and orchestras in the United States and abroad. Mr. Preacely completed a European tour of Porgy and Bess where he received great reviews for his performance of both Porgy and Jake. He also toured Russia in a concert series with New York based Opera Noire, debuted with Opera Memphis in the role of Marullo with a Rigoletto Cover, and Opéra de Montréal in the role of Jake.
Michael's success on the concert stage has blossomed with some of the nation's leading orchestras, including the Chicago Symphony, the Cincinnati Symphony, the Cincinnati Pops, Chautauqua Symphony, Oakland East Bay Symphony, the Memphis Symphony, the Middletown Symphony, the Hamilton-Fairfield Symphony, Firelands Symphony, the Cleveland Orchestra, the Cleveland Pops Orchestra, the Lexington Philharmonic, and the American Spiritual Ensemble.
Michael is the recipient of several awards including the Alltech Vocal Scholarship Competition at the University of Kentucky, the American Traditions Competition, the National Opera Association Vocal Competition Artist Division, the Fritz and Jensen Vocal Competition, and the Metropolitan Opera National Council Auditions.