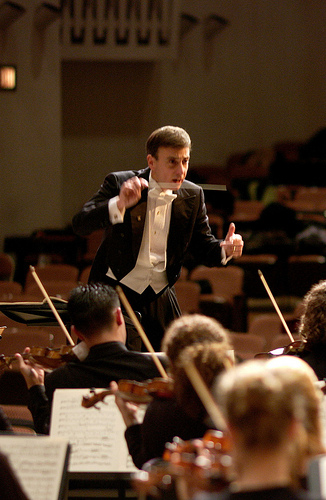 Cleveland POPS Orchestra Announces 2015-2016 Season Concerts
Come join the Cleveland POPS Orchestra in their 20th Anniversary Season. Performances will feature the Best of the Big Bands, the Genius of John Williams, An Evening with Gershwin, and plenty more.
Subscription Concert Series
Tickets for all Subscription Concerts are available by calling (216) 231-1111. Online ordering will be available soon.
The Best of the Big Bands
Saturday, October 24, 2015 – 8:00pm
Severance Hall
Tickets $20 to $89
The POPS pay tribute to the all-American Big Band Era – the music that made the whole world swing, and still does today. The concert features the Cleveland POPS Orchestra with popular jazz vocalist Barbara Knight, Jack Schantz on trumpet and trombonist/arranger Paul Ferguson.
The Genius of John Williams
Saturday, January 30, 2016 – 8:00pm
Severance Hall
Tickets $20 to $89
In the span of six decades, John Williams composed some of the most popular and recognizable film scores in cinematic history. In this concert, you will enjoy many of your favorites. The variety of Williams' compositions in this concert will thrill you with their beauty, depth and originality, giving new insight into his true genius.
Rodgers and Hammerstein
Friday, March 11, 2016 – 8:00pm
Severance Hall
Tickets $20 to $89
You'll always leave an R&H concert humming and whistling those tuneful melodies that came from the hearts and minds of the two greatest composers of musical theatre. The Cleveland POPS Orchestra and Chorus with guest vocalists bring the R&H legacy to life for you.
An Evening With Gershwin
Friday, April 29, 2016 – 8:00pm
Severance Hall
Tickets $20 to $89
Brilliant pianist Richard Glazier is a leading Gershwin historian. His many concerts and appearances on television attest to the high level of insight he will bring to you on the impact George and Ira has on America's popular songs and classics like Rhapsody in Blue, Porgy and Bess – and so very much more!
An American Salute
Friday, May 27, 2016 – 8:00pm
Severance Hall
$20 to $89
This will be the 16th celebration of The POPS' annual patriotic classic. Be prepared for the best of military-inspired music and pageantry, magnificently expressed by Cleveland POPS Orchestra, Chorus and guest artists.
Special Event Concerts
Happy Holidays!
Sunday, November 29, 2015 – 2:00pm
Connor Palace Theatre
Tickets start at $10
Let the merry bells, and horns, and strings, and flutes, and drums of the Cleveland POPS Orchestra bring a sparkle of magic of magic to the most wonderful season of all.
The POPS Chorus and guest artists will add to the festivities, as will the fun activities in the Connor Palace Lobby. Adorable, adoptable pets from local rescue shelters, along with a visit from jolly old Santa Claus add to this beloved annual Sunday Matinee Yuletide Celebration
Call (216) 241-6000 for tickets.
20th Annual New Year's Eve Celebration
Thursday, December 31, 2016 – 9:00pm
Severance Hall
Tickets $31 to $112
Concert 9:00pm to 11:00pm, followed by partying until 1:00am
The popular vocalist Connor Bogart O'Brien brings his exciting performance to the POPS' Severance Hall stage in a Broadway Revue. Then party with two bands (both jazz and rock) right into 2016. Enjoy cash bars and a fabulous balloon drop at midnight. Don't miss the best New Year's Eve party in Cleveland!
Call 216-231-1111 for tickets.
https://www.clevelandpops.com/wp-content/uploads/4329917633_58171b0d95.jpg
500
326
Gordon Petitt
https://www.clevelandpops.com/wp-content/uploads/pops-logo-1.png
Gordon Petitt
2015-05-26 13:55:51
2015-06-08 13:25:44
Cleveland POPS Orchestra Announces 2015-2016 Season Concerts