The No Na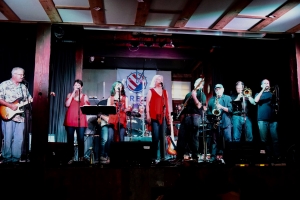 me Band is made up of Cleveland area lawyers who share a love for
playing and singing Rock & Roll music from the 60's, 70's, and beyond. Their
repertoire encourages dancing and includes Motown, R&B, American rock, British
invasion and even a little Disco.
The No Name Band plays predominantly for events for charitable and civic
organizations for which the members often donate their time and talents.
Band Members:

Peter Brodhead (Partner, Spangenberg, Shibley & Liber) keyboards
Steve Daniels (Partner, McMahon DeGulis LLP) 
lead guitar and vocals
Toni Gideon (PNC) vocals
Hugh McKay (Cleveland Office, Partner-in-Charge, Porter Wright Morris & Arthur) vocals
Doug McWilliams (Partner, Squire Patton Boggs) bass guitar and vocals
K.J. Montgomery (Judge, Shaker Heights Municipal Court) percussion and vocals
Jim Robenalt (Partner, Thompson Hine) guitar and vocals
Steve Shafron (Partner, Berkman, Gordon, Murray & DeVan) trumpet
Randy Solomon (Retired Partner, BakerHostetler) sax, guitar and vocals
Kris Treu (Partner, Moscarino & Treu) trombone and vocals
Bob Walker (Partner, Jones Day) drums