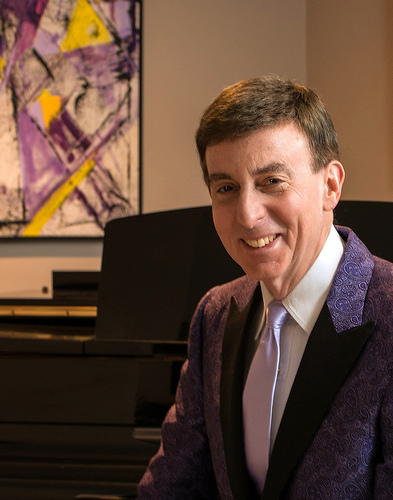 A Full Calendar of Music Events
During the last few weeks, I have enjoyed an interesting and diverse series of musical events!
On Saturday, September 27, members of the Cleveland Pops were invited to play for the Mayo Society's Annual Ball, which was held at the Westin Hotel in downtown Cleveland. Close to 600 guests were present at this lively event. After the speeches and festivities, we played music for the guests to dance to. We were joined by James Kilbane, an Irish vocalist, with whom I had rehearsed that morning. Our group, Jack Schantz, trumpet, Paul Ferguson, trombone, Jack Ciarniello, keyboard, Dean Newton, bass, and Jim Rupp, drums, played a very wide variety of music, and at James' suggestion, I brought along my tenor saxophone. Playing the saxophone is like riding a bicycle; once you learn, you never forget. While no one mistook me for Stan Getz, I was able to honk out some rock and jazz improvisation. I also played my green clarinet during James' rendition of Danny Boy.
The following Saturday, October 4, I drove to Toledo for a concert with the orchestra. I was the orchestra's Principal Pops conductor for a couple of years in the early 2000's, and I have always enjoyed my work with the orchestra. The program was entitled Big Band Bash, and I took the occasion to play music from that illustrious era, including arrangements by Paul Ferguson of Glenn Miller and Benny Goodman hits. I wore my red jacket for the first half of the concert, and played a matching red clarinet, and blue jacket for the second half of the concert with matching blue clarinet. I also assembled a green, white, and red clarinet for the theme from the Godfather, which starts out with the wonderful Nino Rota melody, and turns into a jazz samba. This is an arrangement that I requested in this manner from Paul Ferguson, and it's an exciting selection.
After the concert, I went out with a few orchestra members, including three Cleveland Institute of Music and National Repertory Orchestra alumni. Gareth Thomas, the principal bassoon of the Toledo Symphony, mentioned that he was auditioning for the Cleveland Orchestra in two days. When I asked why he was drinking a few beers with us, he told me if he doesn't know his stuff by now, cramming for the audition isn't going to help. On Monday, he indeed won the job, and will be the new second bassoonist with the Cleveland Orchestra!
I led the Cleveland Institute of Music Orchestra on Wednesday, October 8 in an exciting concert of the music of Johann Strauss, Ginastera, and Sibelius. During the previous week, our violinists enjoyed a sectional rehearsal with Stephen Rose, principal second violin of the Cleveland Orchestra, and CIM alumnus. His work is always a valuable addition to our concert preparation, and for this concert, his suggestions for Strauss' Fledermaus Overture were really helpful, as he's played this Viennese repertoire with Franz Welser-Most and knows the necessary nuance to make this music sparkle. The concert, which also included the Ginastera Harp Concerto and the Sibelius Symphony #1, was broadcast live on WCLV, but also available to watch on ideastream. My cousin Helen Brawer watched the whole performance in Israel!
The next afternoon, October 9, pianist Marshall Griffith and I met at Beachwood High School for our clarinet and piano performance for the Beachwood Seniors. After enjoying a lunch at the Beachwood High School Bistro, which is entirely run by culinary high school students under the supervision of professionals, I wandered over to the high school cafeteria, where I saw my daughter Emily who was eating lunch with her friends. Our program was well attended; among the pieces we played were Monti's Czardas, Blue Rondo alla Turk, Take Five, a medley of Yiddish songs, and Stars and Stripes. I gave out Cleveland Pops sampler CDs to people who were able to answer quiz questions, and also passed out Pops flyers.
On October 11, I conducted a program with the Firelands Symphony at the Sandusky State Theater, which featured the brilliant Ukrainian pianist Stanislav Kristenko. "Stas" was the winner of the most recent Cleveland International Piano Competition, and is a former student of mine at the Cleveland Institute of Music. While he has played the first and third concertos and the Paganini Rhapsody of Rachmaninoff, this was his first performance of the second concerto. It was indeed a treat to work with this wonderful artist and individual. He played a lovely version of The Man I Love for an encore. We opened the concert with Williams' stirring The Mission, written for NBC News for Tom Brockaw. Next was Respighi's Fountains of Rome – this colorful and dramatic piece ends very quietly, and I was amazed by the huge ovation we received. To close the first half of the concert, we played Dukas' Sorcerer's Apprentice. The piece was accompanied by supertitles which I had assembled, enabling the audience to follow the plot of this brilliant tone poem. I couldn't help but hear chuckling in the audience when the sorcerer breaks the broom in half, and then two brooms appear, continuing to bring bucket after bucket of water to the dismay of the apprentice. I feel that this sort of listening is so crucial to help provide a more engaging experience for our audiences.
We're looking forward to upcoming Pops events and concerts as follows:
November 1 – G Clef Ball (annual Pops fundraising event)
November 14 – Severance Hall opening concert "Comedy Tonight"
November 29 – holiday concert for Berea Schools
November 30 – holiday concert at the Palace Theater
December 13 – holiday concert at Avon Lake
December 31 – Severance Hall annual New Year's Eve concert and dance
https://www.clevelandpops.com/wp-content/uploads/14358946694_3cef35bdae.jpg
500
393
Gordon Petitt
https://www.clevelandpops.com/wp-content/uploads/pops-logo-1.png
Gordon Petitt
2014-10-16 11:03:35
2015-06-08 13:25:44
A Full Calendar of Music Events