An Announcement Regarding our Rescheduled Concerts
Thank you for your patronage of the Cleveland Pops Orchestra, including planning to attend the three spring concerts that were rescheduled due to the pandemic.
As you all are aware, Ohio is gradually opening up, but because it is not safe to have large gatherings this summer, we will not be able to perform these concerts; they have been cancelled and will not be rescheduled.  Along with our Board of Directors, we have made this difficult decision for the safety of our patrons, musicians, staff and volunteers.  We thank our sponsors and donors whose generous underwriting made our 2019 -2020 season possible: Sandra and Jeffrey Brausch, Glenmede, Hawkins & Company LLC, JacksonLewis, and others. 
As a ticket holder for these now cancelled concerts, we ask you to please consider donating your tickets to the Cleveland Pops Orchestra as a tax deductible donation for the total value of your tickets.  Every donation will have a tremendous impact on the orchestra as we look to the future beyond the crisis. 
We have received generous matching funds from our board and anonymous donors for donated tickets. 
The concerts affected are the following:
August 8, 2020 – Music of the 70's and 80's
August 22, 2020 – Fiesta Latina
September 12, 2020 – Our Annual American Salute
If you wish to donate the value of the tickets to Cleveland Pops office, we will send you a tax receipt. Please send an email to shirleymorgenstern@clevelandpops.com, or call the Pops office 216-765-7677. For other arrangements, please contact us by June 15, 2020.
Follow us on social media for videos from our musicians and our archived radio show, Rhythm and Views, while we wait to see you in person! Stay tuned for information on our upcoming 25th anniversary season. 
As Carl says…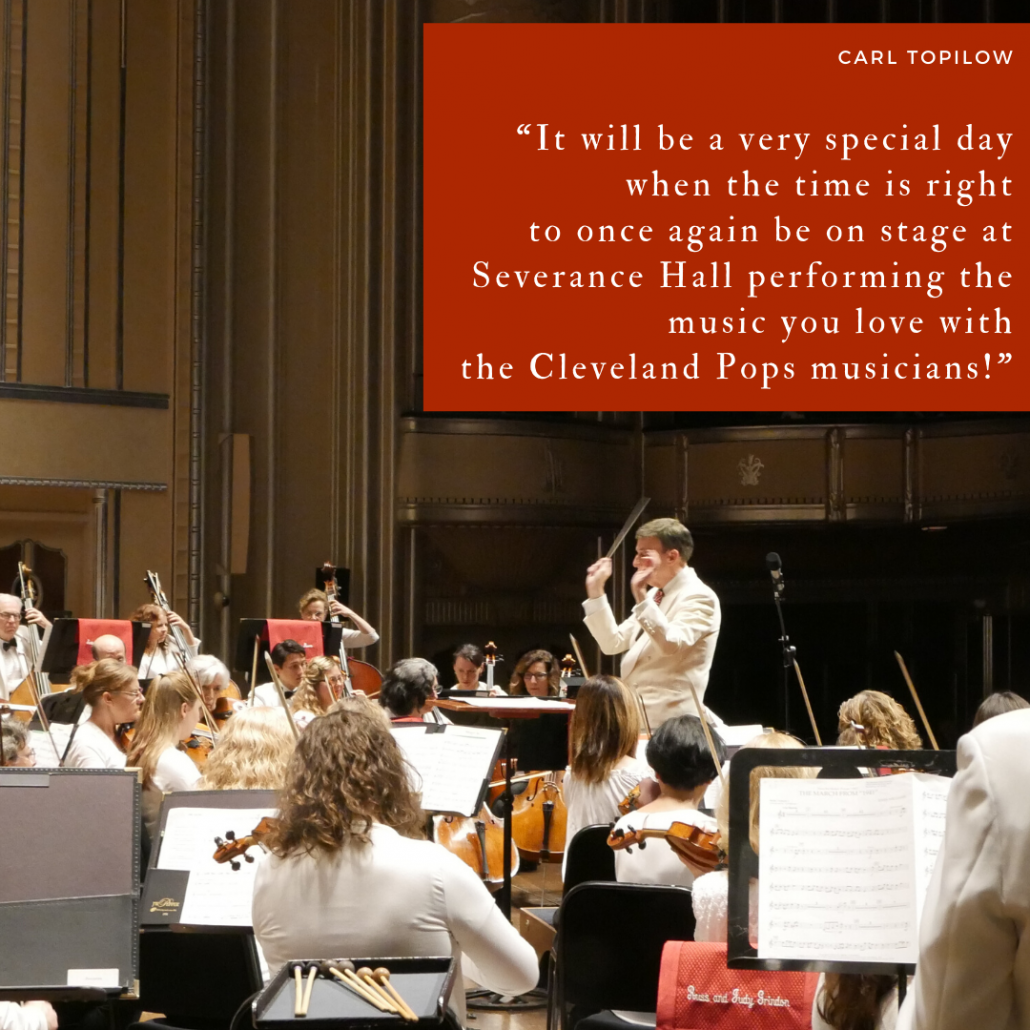 https://www.clevelandpops.com/wp-content/uploads/pops-logo-1.png
0
0
Sabrina Plumb DeCastra
https://www.clevelandpops.com/wp-content/uploads/pops-logo-1.png
Sabrina Plumb DeCastra
2020-05-12 11:40:35
2020-10-27 15:20:19
An Announcement Regarding our Rescheduled Concerts